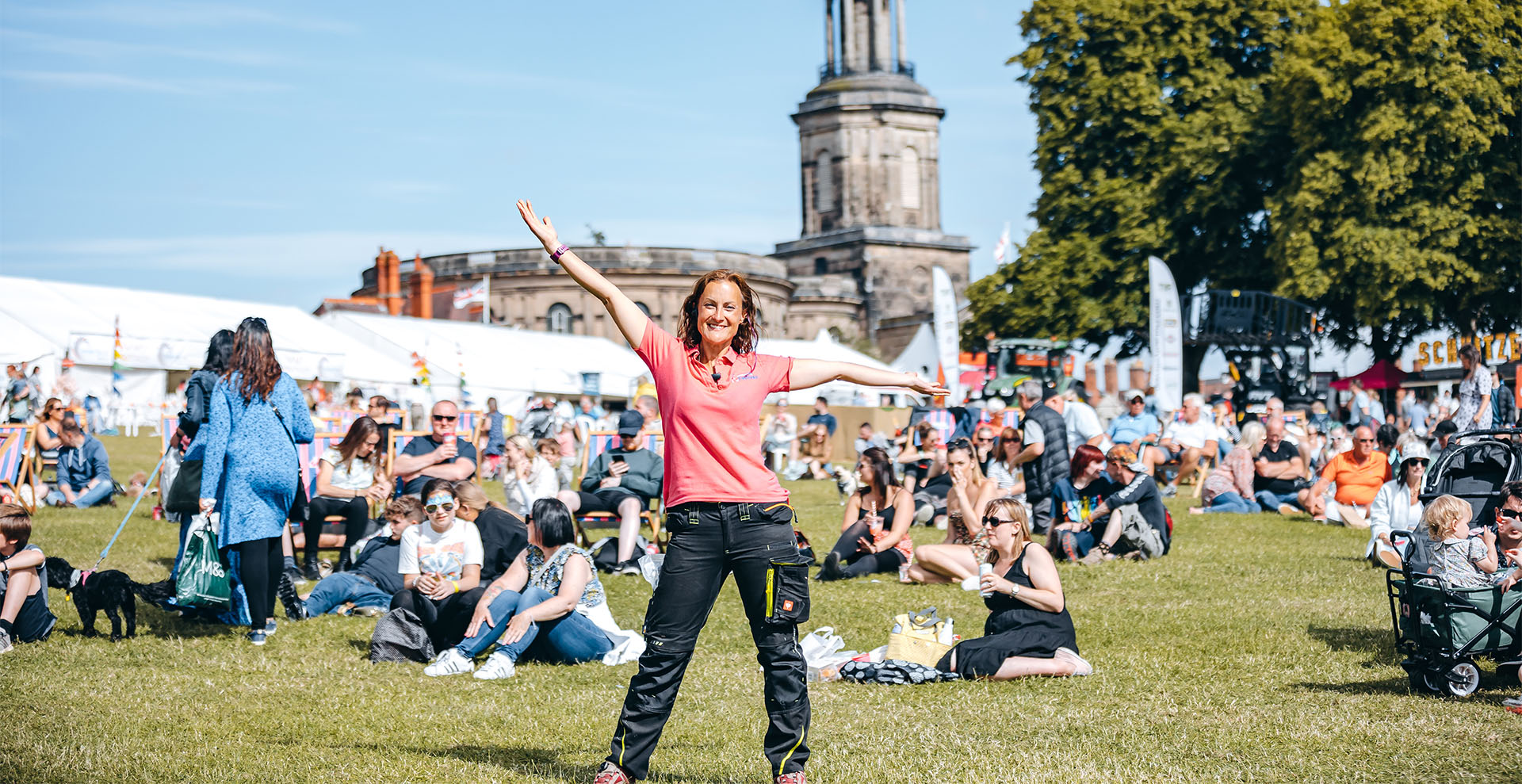 Where and when is the festival?

The festival takes place in Shrewsbury's Quarry Park at SY1 1RN in the heart of Shrewsbury.

There is no parking at the festival - entrance is by foot only. There are two entrances - one opposite St Chad's Church at the top of the park and the other is near the Port Hill Suspension Bridge near to The Boathouse.

Find the exact locations using what3words:

Top Entrance: ///call.wakes.left

Bottom Entrance: ///across.same.hopes

Entry Times:

Saturday 24th June - 10am - 6:30pm

Sunday 25th June - 10am - 5pm

How do you buy tickets?

Tickets are cheaper if you purchase them online from our website here. Or you can purchase them at the gate on the day.

Early Bird Adults - £14.50 online (£17.50 at the gate)
Early Bird Child (3-14 years old) - £8.50 online (£10.00 at the gate )
Early Bird Child (2 & under) - FREE online and at the gate
Early Bird Family (2 x Adults & 2 x Children) - £45.00 online (£50.00 on the gate)

You can also purchase a weekend ticket for both days.

If you buy your tickets online, the tickets will be emailed to you after you complete the purchase. If they don't arrive promptly, please check your spam/junk folder. We do not store credit card details nor do we share customer details with any third parties.

If you have purchased multiple tickets, you are able to enter at different times. Please make sure that if you are entering at different times, to make sure the other people in your group have a copy of the ticket.

Do I need to bring the ticket confirmation with me?

You can bring a print out or show us the confirmation on your phone. We can locate your order using the order number or your email address, so don't panic if you don't bring it!

Will you have baby changing and feeding areas?

Yes, there will be two baby changing and feeding areas on site, run by our amazing sponsors, Waterbabies.

What do VIP tickets include?

VIP tickets include entry into the festival, a dedicated covered seating area with an excellent view of the main stage, light refreshments and VIP toilets.

We are sold out for Saturday VIP Tickets.

Is there disabled access to the festival?

The festival is held on the parkland's grass, which means the surface isn't even, although largely quite flat.
Carers of disabled people are eligible for free entry (evidence will be required).

Shrewsbury Shop Mobility operates from Raven Meadows car park, Monday to Saturday 10am to 4pm. Electronic scooters and wheelchairs are available for hire. Reservations are recommended, telephone 01743 236900.

Shrewsbury has designated on-street parking spaces for disabled badge holders. These spaces can be found on Shoplatch, Castle Street, St. Mary's Street, Claremont Street, and Roushill. Parking is free if displaying the badge and clock for the period as indicated on the signs.

There are designated parking spaces for disabled people in Raven Meadows multi-storey and in Abbey Foregate car park. Normal car parking charges apply. Wheelchair accessible buses operate on all three Park and Ride routes. Normal charges apply.

Do you cater for dietary requirements?

Yes! If you head on over to our Exhibitor Page, you'll be able to filter all of our exhibitors who will be catering to dietary requirements.

If you'd like further information, please email us on fun@shropshirefestivals.co.uk and we'll be more than happy to provide more information about any of our exhibitors.

Getting around Shrewsbury

By Bicycle

We have a bike creche near to our bottom entrance at the festival. The service is expected to be popular. Please bring your own padlock and chain. Bikes are left at your own risk.

By Train

West Midlands Trains will operate services to Shrewsbury on both days at regular times. The station is a 10-15 minute walk from the festival. Please check the route before you travel, there may be disruptions.

By Bus

There are regular services to the town centre bus station on Saturday only, the bus station is a 5 minute walk to the festival.

By Car

Shrewsbury's car parks are likely to get busy, so use public transport when you can. There are lots of car parks across Shrewsbury. Details are available from Shropshire Council's website www.shropshire.gov.uk/parking

Park and Ride - Saturday ONLY

A park-and-ride service will operate on Saturday only. For full details visit www.shropshire.gov.uk/public-transport

Can I bring in my own food and drink?

We recommend enjoying all the amazing food and drink on offer! If you'd like to bring in your own food and drink, that's fine too, but please note alcohol is not permitted, and please ensure you do not bring any knives on site.


Soft drinks are allowed in a sealed container. We have Bob, the Wenlock Water refill station on site, where you are able to fill up your empty reusable water bottles.

Bag searches will be conducted before entry to the site and any prohibited items will be confiscated and returned when you leave. Reusable water bottles must be empty on arrival.

Are dogs allowed?

Dogs are very welcome at the festival, but they aren't allowed into the marquee areas, and they must be kept on a lead at all times. We have lots of outdoor space so your four-legged friends can enjoy the atmosphere. The Dogs Trust kindly run a dog creche giving you an hour of shopping time for a small donation to the charity.

Where can I stay?

For tourist information and accommodation, go to originalshrewsbury.co.uk or visitshropshire.co.uk. Visit the town's information centre at The Music Hall in The Square, in the centre of town, or call 01743 258888.

Or if you fancy camping, the West Mid Showground is a camping and caravanning site, just a 15 - 20 minute walk to the festival.

How do I exhibit or trade at the festival?

If you'd like to join us at the next Shrewsbury Food Festival, please apply using our online application forms:

Do you need volunteers?

Yes! We're always on the lookout for volunteers as we need up to 100 over the weekend in order to make it a success. It's a great way to get hands-on event experience, as well as a behind the scenes insight into how a festival runs. Plus, it's a great way to make friends and keep active.

To put your name down to volunteer at a Shropshire Festivals event, fill in our form here or email fun@shropshirefestivals.co.uk.

Hang on, why should we volunteer if it's a privately funded event?

Our festival is privately funded but without community support, we just wouldn't last. We've been transparent from day one - the festival can only exist with private funding and the support of local volunteers.

We also want to give back to the community. Our festival not only helps to boost the local economy, we also give back to the community through local projects and working with local charities, such as Lingen Davies Cancer Fund, The Harry Johnson Trust and Self Help Africa.

Who runs this festival?

The local, family business - Shropshire Festivals! We're a small, independent business with a mission to create fun festivals for all! We are the team behind Shropshire Oktoberfest, Shropshire Tasty Trail, Shropshire Kids Festival and Shropshire Business Festival. At the helm is Director of Fun - Beth Heath, and Engineer of Extraordinary Things - Sid Heath.